The simple answer is no.  To be a "clone" it must be an exact era specific match which would require a stock and ultimately an SBR Stamp.  However, many AR15 builders are building "clone inspired" MK18 Pistols using arm braces
Yes we know. Braces are not clone correct. But if you're waiting on your SBR paperwork or dont want to deal with jumping through hoops with the ATF just to get it done there are a couple brace options available to you so long as you dont intend to purposely shoulder your clone inspired MK18/CQBR/URGI pistol. If you intend to shoulder we strongly recommend you get your tax stamp. Two of the most popular options would be the SBA3 from sbtactical because it is a 5 position adjustable brace that is available in FDE and the strap can be swapped out for other colors. The second would be the Tailhook Mod 2 from gear head works as it is pretty damn rugged and also features some adjustment sure to make those with long or short arms comfortable.
Heres a look at a couple options that are available to you that do not take away too much from the build!
SBA3

Ever wanted a 5 Position Adjustable Arm Brace for your AR Pistol? Finally it's possible. SB Tactical has developed a minimalist designed SBA3  arm brace that lets you choose the length of the arm brace, and keep it there. No more worry about it slipping forward while your shooting. The SBA3 Brace from SB Tactical has changed the AR15 Pistol game forever.  Approved by the BATF this pistol arm brace essentially eliminates the need for a short barreled rifle unless you intend to shoulder it all the time, in which case we strongly recommend you get your tax stamp.
Designed for all platforms capable of accepting a mil-spec carbine receiver extension, the SBA3 is 5-position adjustable, dramatically enhances versatility, and features a minimalist design with an integral, ambidextrous QD sling socket.
GearHead Works Tailhook Mod 2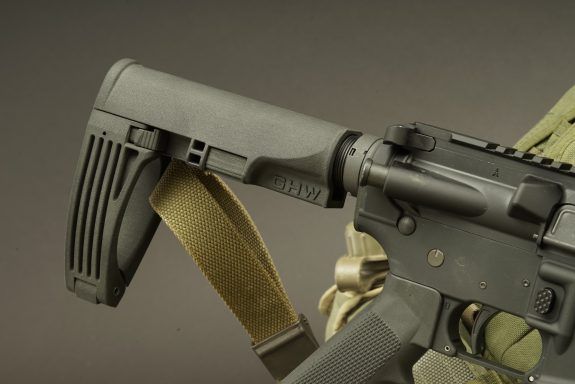 Tailhook MOD 2 takes the pistol brace concept to a whole new level with it's ability to telescope the length. The key to this is our Patented proprietary telescoping latch mechanism giving the user 5 positions of use up to a 12.75″ LOP. Combine that with the also Patented brace functionality and you have the new king of the market. The brace is injection molded out of reinforced polymer for rigidity and strength. It provides the perfect balance between size, weight, comfort and rigidity that everyone has been wishing for. A heavyweight with features all at featherweight mass, the 7 ounce (without buffer tube) Tailhook MOD 2 is the clear winner.
As with all it's siblings, the MOD 2 uses the same fold out arm to create the support shelf that inspired the Tailhook name. This counteracts the muzzle weight of your favorite large handgun. The telescoping feature lets you find that sweet spot for balance. As an added feature, the outsides are smooth for comfortable cheeking. There is even a web sling loop.
Included in the package is the Tailhook, proprietary receiver extension, castle nut and back plate.
Remember that when this is installed on a pistol, it does not change the classification of the pistol with correct intended use.
SB Tactical SBA4
Designed for all platforms capable of accepting a mil-spec carbine extension, the SB Tactical SBA4 adjustable brace greatly enhances the usability of the firearms by adding a third point of contact.
FEATURES
•Based on the popular SBM4™ brace design
•5-position adjustable
•Includes mil-spec carbine receiver extension
•Integral, ambidextrous QD sling socket
•Comes with adjustable nylon strap for custom fit
•ATF compliant
•Veteran designed
•Made in the USA