Yesterdays shooting in Norway is being investigated as a act of terror. The shooting left one injured and the suspect was apprehended. It could have been worse had there been more people present and had no one acted to stop the shooter.
According to FoxNews Assistant Chief of Police Rune Skjold told reporters on Sunday the suspect, a Norwegian man, appeared to have "far-right" and "anti-immigrant" views that he had previously expressed online.
"We're investigating this as an attempt at carrying out an act of terrorism," he told reporters.
Skjold added that the suspect had expressed sympathy for Vidkun Quisling, the leader of Norway's collaborationist government during the Nazi occupation, local newspaper Budstikka reported. Budstikka also quoted a mosque board member, Irfan Mushtaq, as saying the shooter wore a helmet and a uniform when he entered the mosque.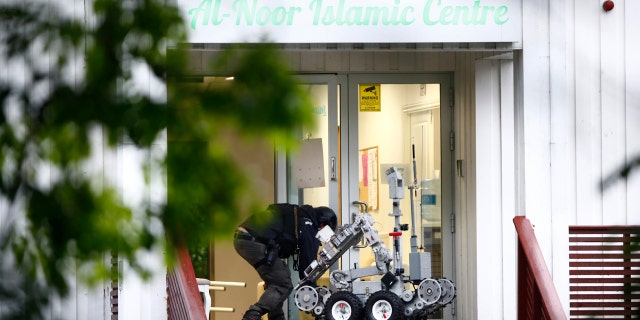 Norwegian police said one person was been shot but only sustained minor injuries during a shooting incident at a mosque in a western suburb of the capital. (Terje Pedersen / NTB scanpix via AP)
Only three people were present in the mosque at the time of the attack while preparing for Sunday's celebration of the Eid-al-Adha festival, mosque spokesman Waheed Ahmed told Reuters. After firing shots, the gunman was overpowered by two men inside the building before police arrived…
We have noticed we are starting to see more people attempt to stop the shooters and most of the time it works! These are the people we need to focus our attention on. Quit naming the shooters. Quit giving them publicity. Focus on the heroes!