(featured image by: RT.com)
As the global race for hypersonic weapons intensifies, the U.S. military just decided to abandon one of its fundamental prototype programs.
The U.S. Air Force on Monday said it will cancel its Hypersonic Conventional Strike Weapon, known as HCSW (pronounced "Hacksaw"), in order to shift resources to its other program, the Air-launched Rapid Response Weapon (ARRW). Both prototypes are designed by Lockheed Martin Corp.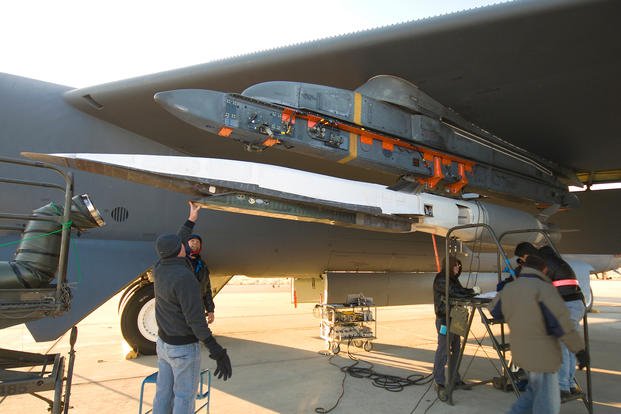 Crew members and program officials prepare the X-51A WaveRider for a "captive carry" flight under an Air Force Flight Test Center B-52H Stratofortress Dec. 9, 2009 at Edwards Air Force Base, Calif. The captive carry mission is part of preparations being made prior to the X-51's first powered hypersonic flight in early 2010. (U.S. Air Force/Mike Cassidy)
"Due to budget priorities, the Air Force down-selected to one hypersonic weapon prototyping effort this year," spokeswoman Ann Stefanek said. Instead, she said, the service will concentrate efforts on ARRW, which is "on track for an early operational capability in fiscal 2022."
Stefanek explained that ARRW — pronounced "Arrow" — offers a "unique glide body design as compared to other prototyping efforts."
Meanwhile, the Air Force conducted its first test of the AGM-183A ARRW in June, flying the weapon on a B-52 Stratofortress bomber aircraft at Edwards Air Force Base, California. ARRW, which has a tactical boost-glide body, completed its preliminary design review in March 2019, Lockheed said at the time.
A glide-body vehicle reaches high speeds before separating its payload and gliding toward its intended target, according to the Defense Advanced Research Projects Agency.