There is a lot of Banger shit to finger blast at Shot Show this year, currently I am writing this blog early early Tuesday morning, after the Media Range Day Coverage, so, expect spelling errors this is vegas after all.  But lets get his shit on a roll so I can get to sleep and get to the floor in a couple hours.  Keep an EYE on this blog as it WILL be updated with shit when we check it off the list!  Make sure you follow us on the Social Media platform of your choice and check out ALL the other insanity this year at Shot Show 2020!
Check out ALL our Shot Show Coverage on YOUTUBE HERE:

1.  Arsenal AK20: FINGGERD✅
In an attempt to drag the AK into the 21st century, Arsenal of Las Vegas has unveiled their new super modern AK, the AK-20. WE THINK THEY DID IT
2.Law Tactical Integrated bcg buffer
Law Tactical's ARIC, short for AR Internal Carrier, is a drop-in bolt carrier replacement that lets your Law Tactical Gen 3 folding stock adapter-equipped AR run normally with the stock folded up. The dual sprung recoil system and abbreviated bolt carrier mate with the company's folding stock system to retain the entire bolt carrier group and recoil system forward of the buffer extension tube. To ensure reliability, and to keep the price down, the ARIC uses your existing bolt, cam pin, firing pin, and retaining pin. The resulting gun runs without modification of the gas system thanks to some internal wizardry. Law says the system was tested extensively with .223/5.56/300 AAC calibers, including more than 10,000 rounds through an unaltered, suppressed Mk18 rifle.
Make: Law Tactical
Model: ARIC System
MSRP:  TBD (approx. $369)
URL: www.lawtactical.com
3. High point Ak (rumored)
yah we are just as confused as you are….
4. Gunwerx Revic:  FINGERED✅
Distance adds variables. When you're shooting at a target that's more than a mile away, obtaining a targeting solution becomes extremely complex. The best way to ensure a satisfying hit is to simplify the process, and that's exactly what the PMR 428 does. The PMR is a whole new way of looking at long-range shooting. When you dial the turret, it calculates the bullet trajectory utilizing a full suite of sensors and an advanced ballistic algorithm–and it calculates the solution in real time. Just dial the elevation turret until the display shows the target range. It's as simple as that!
5. Laugo Alien:  FINGERED✅
Laugo Arms Alien is revolutionary semiautomatic pistol with several patented and unique technical solutions.
Alien system of operation does not use obsolete locking mechanisms or normal trigger mechanism.
This new approach is driven by the vision of progress which we want to give to the shooters.
6. CMMG 5.7 upper and magazine
CMMG released its BANSHEE series of AR pistols and rifles three months ago, but they're already expanding the line. Currently it's offered in .22 LR, 9mm, .45 ACP, and 300 BLK  Now, as of a couple days ago, the BANSHEE is also chambered in the same 5.7x28mm round made popular by the FN Five-seveN and PS90 but available in almost nothing else.
7. STI Staccato C2 Duo:  FINGERED✅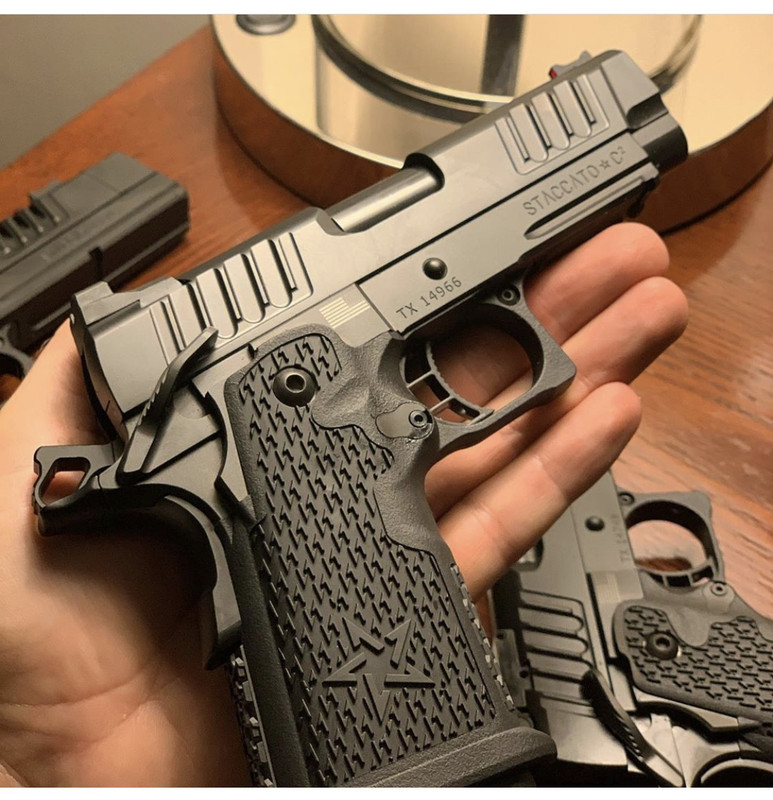 Barrel – 3.9 inch Bull Barrel
Finish – Diamond Like Carbon, Black
Magazines – 1x 120mm & 2x 126mm
Trigger – 4 lbs with Ambi Safety Levers
Dawson Precision Perfect Impact® Sights
Front – Fiber Optic
Rear – Dawson Charger
Recoil System – 3.9 Recoil Master Light
Grip – 2011® G2, Officer Length, Black
Frame – Lightweight Alloy Frame w/ Accessory Rail
Caliber – 9mm
8. Brownells BRN 180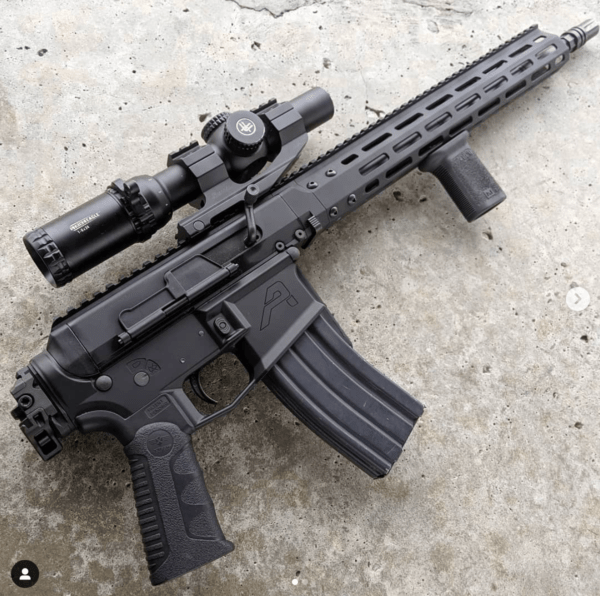 Designed in conjunction with PWS & FM Products, the Brownells BRN-180™ Complete Upper Receiver is inspired by the Armalite® AR-180 of the 1960s. Developed as a successor to the original AR-15, the AR-180 was a civilianized version of the AR-18, itself an upgrade on the M16 platform. The BRN-180 incorporates many of the AR-18/AR-180 improvements – including its robust and reliable gas piston operating system. (Yes, the originators of the AR-15 / M16 eventually embraced a piston!)
9. Hiperfire drop In trigger system:  FINGERED✅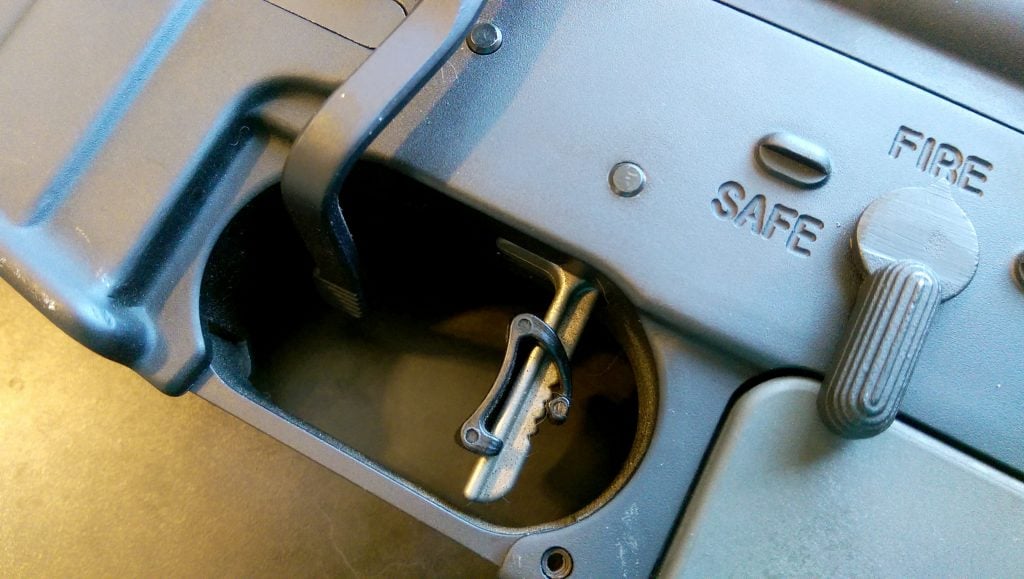 10. Gun Bunny: Alex Zedra
Alex Zedra is a social media influencer, and firearm model, Originally Alex Rogers. She took her surname from the game World of Warcraft.  Recently her likness featured in the popular FPS game COD as the character , Alex likes to spend time streaming on her twitch account while playing FPS Casual (First Person Shooter) games.
Find more info on Alex here
Read more: https://madnessmedia.net/alex-zedra/
@ShotShow 2020 Coverage Sponsored by @warfightertobacco Warfighter Tobacco and Staccato 2011 @2011_sti
Make sure you stay tuned to our you tube Channel for all the FRESHEST Content served to you DAILY! During #shotShow2020
https://www.youtube.com/playlist?list=PL2kwfpmDDCR_uLb4on6dxIhbNmU2pqB_g 


Check out Warfighter Tobacco HERE:

100% Veteran Owned Cigar Company. For Sheepdogs who protect the innocent, love America and all things ATF. #warfightertobacco

2011 Staccato: STI Firearms is the premiere manufacturer of the original 2011® style firearms. Check out more on their NEW STACCATO LINE HERE: