UPDATE@ 8/26/2020 1:30pm CST
MAN ARRESTED AFTER SHOOTING 3 PEOPLE LEAVING TWO DECEASED
17-year-old Kyle Rittenhouse of Antioch, Illinois has been arrested in Illinois related to the Kenosha, Wisconsin protest/shooting last night.
He will be charged with 1st Degree intentional homicide.
Rittenhouse has been given a public defender and will have his first court appearance Friday morning.
According to witness accounts and video footage, police apparently let the young man responsible for some or all of the shootings walk past them with a rifle over his shoulder as members of the crowd were yelling for him to be arrested because he had shot people.
The sheriff told the Journal Sentinel that armed people had been patrolling the city's streets in recent nights, but he did not know if the gunman was among them.
"They're a militia," the sheriff said. "They're like a vigilante group."
The FBI said it is assisting in the case.
Yesterday Wisconsin Militia sent a Facebook message to local law enforcement claiming that they would have 3000 armed militia members to help protect the community and to not arrest them.  Hours later protesters were getting shot right and left after "fucking around and finding out"  We will do our best here to include all the videos and sort out the mess.
What really happened from what we saw in the video, unnamed man with rifle is chased, attacked with a skateboard, and some dip shit with a hand gun.   When the guy with the long gun goes down, he fires on his attackers, hits 2, one in chest, one in arm.  It is BELIEVED that this is the same person that was in the altercation earlier where a man was shot in the head and he was running down the street to escape from the crowd that was chasing him, this is unconfirmed.
THE SUSPECT HAS BEEN APPREHENDED AND IS BEING CHARGED WITH 1st Degree Murder
Now here is where things get strange.
The First Video We have is this. 
Your Wish Has Been Granted
Above seems to be what is thought of as the first person who was shot,   HERE is the Timeline as we see it currently   of just the shooting
A man — who witnesses described as being part of a vigilante militia group — with a long gun brazenly walked down a street in Kenosha, Wisconsin Tuesday night and began firing his weapon at people protesting the police shooting of Jacob Blake, killing 2, and incredibly walking right past a swarm of cops who let him go into the night.
The protest centered around the courthouse and got out of hand, with water bottles, rocks and fireworks aimed at police. The police then fired rubber bullets and tear gas into the crowd, which then dispersed and moved several blocks.
That's when the white vigilante appears on video with his gun. He reportedly had already shot someone in the stomach several blocks away, and he was being chased by protesters who were trying to subdue him.
The vigilante falls to the ground as he's being chased and then begins unloading his weapon, striking and killing 2 people. 
AT THIS TIME. The vigilante escaped and is still on the loose.MORE
:After midnight, shots were fired outside the gas station. Three people were struck, Sheriff David Beth said in an interview. The Kenosha Police Department said in a statement that there were two fatalities, and that one person had been taken to the hospital with injuries that were not life-threatening.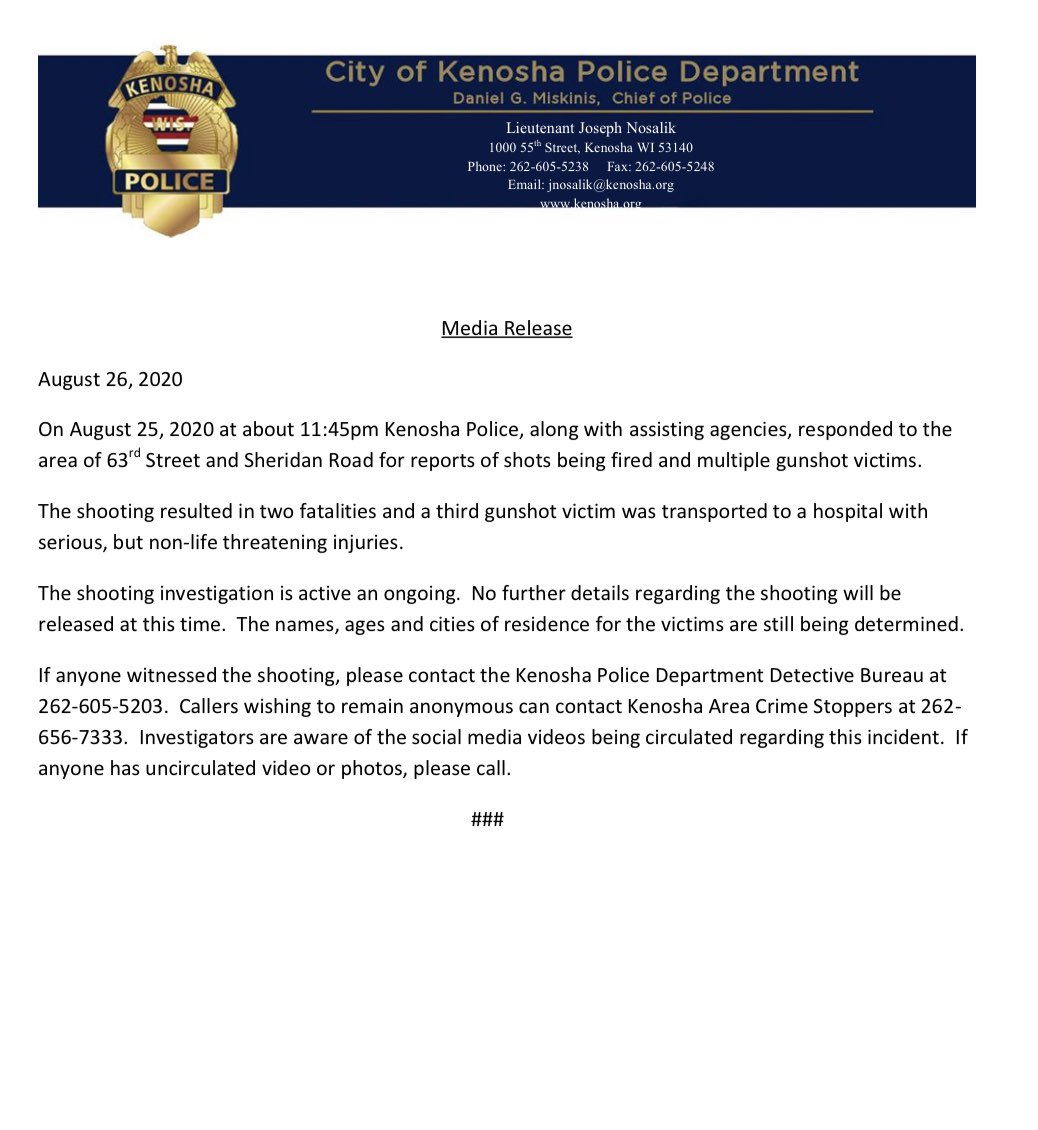 Sheriff Beth said that the investigation was focused on the group of men with guns outside the gas station, and that investigators were scouring video taken just before the shooting.
In one video, the men are shouting at each other, clutching their guns and occasionally pulling each other away to defuse the conflict.
"I've had people saying, 'Why don't you deputize citizens?'" he said. "This is why you don't deputize citizens with guns to protect Kenosha."
The Kenosha Police Department, which has also declined to provide details of what happened, has been at the center of criticism from demonstrators, who protested for a third night on Tuesday.
People that fuck'd around and found out
GRAPHIC POST SHOT VIDEO OF ARM