SigGlockinColt meets with John of black rifle coffee to launch the new Liberal Tears Coffee. Sig also receives the first bag ever of Liberal tears brand coffee roasted by Black Rifle Coffee. Its a medium roast Columbia supremo. John developed this roast in 2010, going through various south american samples. Liberal Tears Coffee has a full spectrum of flavor with low acidity and hints of chocolate and Cacao. Its a smooth roasted medium that doesn't have the burnt tire taste that alot of coffees have. The lighter the roast the higher the caffeine.
This coffee is everything they say it is and is available on TacticalShit.
Liberal Tears Coffee – Medium Roast

Liberal Tears Colombian Supremo medium roast. The favorite bean of Black Rifle Coffee founder Evan Hafer. Bet you didn't know that Liberal Tears tasted so great or that they had contained so much caffeine. Well, these tears are not harvested from just any Liberals. We stay away from the acidic tears of CA, IL, DC and MA.
We also avoid tears from places like Detroit where the water sucks. We only curate tears from millennial coffee shop baristas in the heartland.
Tears are usually harvested just moments after a POTUS State of the Union to preserve freshness.
So you've got your coffee now what? Well we also have everything you need to keep you coffee warm!
Liberal Tears Coffee Mug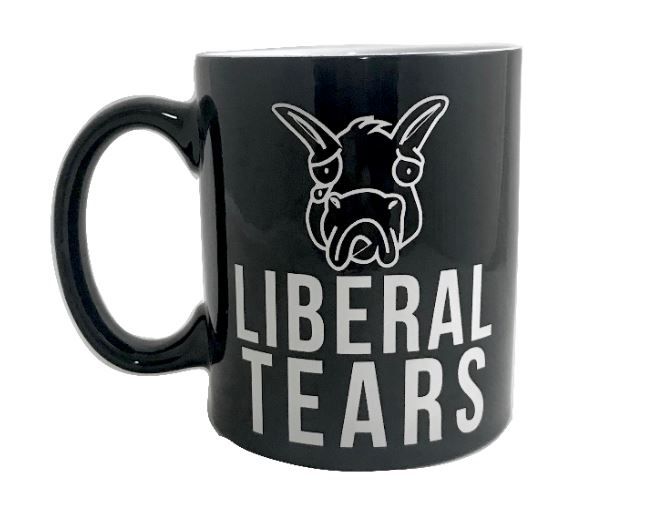 Looking for the perfect gift to piss off those in-laws….here's your shit! A
High contrast liberal tears coffee mug that looks great anywhere!
Holds 11 oz.
Liberal Tears yetilike Tumbler
You got the gun oil, you've got the hoodie, you even have the bacon scented coffee, and now you need the TUMBLER to match the rest of your shit.
Keeps your drink hot for over 6 hours, or cold for over 10. Fits perfectly in your cup holder
Polar Pro brand
20 oz. stainless steel double wall vacuum insulated
18/8 food grade stainless steel
Good for Hot or Cold liquids
Handwash only
But more importantly dont forget the gun oil that started it all!
LIBERAL TEARS GUN OIL AND LIBERAL PENETRATOR BUNDLE
Liberal Tears Gun Oil traps the carbon and debris, caused by firing your weapon, within the lubricant so it's easily cleaned off. The strong lubricant layer, created on the surface of your weapon, will protect it against fouling and make cleaning your weapon a breeze.
Liberal Penetrator is an advanced formula of distilled petroleum distillates. Superior to all other solvents, this formula is designed to penetrate the hardened contaminants attached to your weapon. Can be used in many ways, including covering the object to be treated with a cloth then pouring Liberal Penetrator over the rag, or in your sonic cleaner.