RedWhiteandBen and DynaDeath check out the Gear Head Works 300 blk bolt action pistols! Both pistols feature their signature braces available in Mod1 or Mod2 and are available in a variety of options such as different colors, fluted barrels, etc. The pistol was built from the Chassis up. The Gear Head Works pistols also allow for use in alternative seasons in which only black powder or pistols are allowed.
GearHead Works Tailhook Mod 2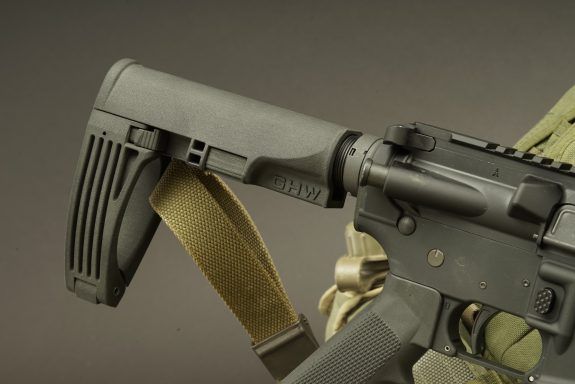 Tailhook MOD 2 takes the pistol brace concept to a whole new level with it's ability to telescope the length. The key to this is our Patented proprietary telescoping latch mechanism giving the user 5 positions of use up to a 12.75″ LOP. Combine that with the also Patented brace functionality and you have the new king of the market. The brace is injection molded out of reinforced polymer for rigidity and strength. It provides the perfect balance between size, weight, comfort and rigidity that everyone has been wishing for. A heavyweight with features all at featherweight mass, the 7 ounce (without buffer tube) Tailhook MOD 2 is the clear winner.
GearHead Works Tailhook Mod 1
The Patented Tailhook MOD 1 is the most compact pistol brace in the world. At less than an inch thick, it can be adapted to practically every platform on the market. To activate the brace functionality, depress the release button and pull the arm down. This creates the shelf that will counterbalance the muzzle weight of your large frame handgun. The ability of your forearm to hold the weight allows you to relax your shooting wrist and concentrate on trigger control. True one handed operation is achieved since you do not need a second hand to attach the brace to your arm. MOD 1 can be set up for right or left handed operation.