SigGlockinColt has a problem. He sees nice shiny shit hes gotta have it. Fortis' new Glock barrels and  were no exception! The Glock barrels are going to offer an amazing price point at sub $200! Fortis says they wanted something that was functional not flashy! And to be honest, they look better than some companies that have been doing it for awhile. Fortis is also offering new safety selector. Theirs offers a new system in which the safety selector beefs up the to weak point associated with most selectors. They are also developing a new adjustable gas block available in .750 or .875 which can be adjusted by a ratcheting flywheel!
Fortis prides themselves in Function over Form and it shows. This isn't a bad thing as today's market for firearms is shifting from the flashy, otherworldly looking, over the top rifles to building functional work rifles such as the MK18 clones. Fortis parts will definitely fit right in whether you're building a rifle or a pistol!
Fortis Match Grade Barrel for Glock 19 with Lone Rifling
Fortis's newest barrel offering for Glock 19 in a sleek sexy package, match quality for an excellent price! Rifling in an AR barrel is one of the most important features for shooting accurately. Somehow this hasn't been the focus on shorter barrels for the pistol market—until now. We're using a process that utilizes our lone rifling™ technology. We're utilizing a single point cutting technique for greater precision and ultimately, much better accuracy. Our concentricity to the bore is unmatched and shows in the shooting experience. Run it harder, faster and more more accurately with the Fortis Glock line of barrels.
Fortis Hammer AR15/M16 Charging Handle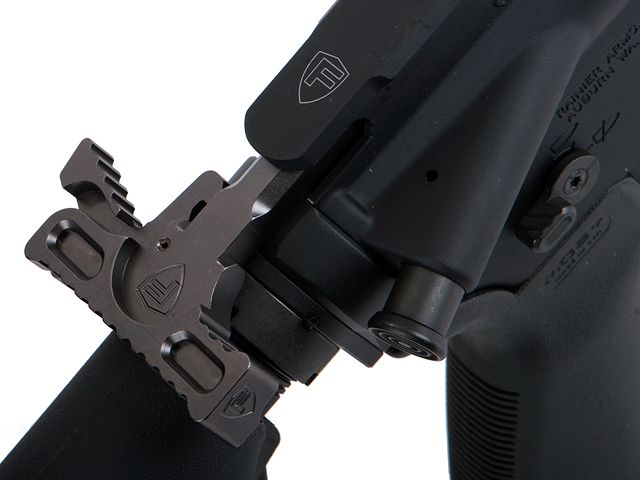 The new Fortis Hammer charging handle stays true to their brand.  They have engineered, designed, & developed military grade accessories that look good and functions great.  Tested and evaluated by the 3 Gun community, then put to the test by people in the military and law enforcement community.  Continuously, they've refined our design and came up with the Hammer. So charge your rifle by dropping the Hammer and go!
Introducing the black teflon finish. This slick finish is smooth and gives the already durable charging handle a unique finish that's not common in the market today.
Clutch Charging Handle
The Fortis Clutch™ charging handle was designed with simplicity in mind and for those that use the palm method to charge their weapons. Sometimes they've have found over sized charging handles get caught on gear and rigs. Fortis eliminated the opposite side of the charging handle, but kept the latch side robust. They're incorporating a new cam system in place of a roll pin and this increases both strength and durability.  If you're looking to upgrade your charging handle, they have a perfect solution for you and it comes in the Clutch™.
They engineer, design, & develop military grade accessories that look good and functions great.  Tested and evaluated by industry professionals, then put to the test by people in the military and law enforcement community. For those that want a more standard approach, don't forget about the hammer chargin handles.
SWITCH AR15 MOD 2 Rail System – 9.6″ MLOK
The new Switch MOD 2 Series takes the very best from the Switch Series and custom tailors it to fit the needs of our shooters. Fortis eliminated the 12 o'clock picatinny section and replaced it with open vents. This gives a more streamlined appearance to the rail, but more importantly, allows the shooter to utilize the smaller diameter of the rail to manipulate the weapon more effectively. The vents allow better airflow from the barrel and helps eliminate heat buildup and allows the end user to run longer and cooler with this setup. Rest assured, they still left a small section for back up iron sights. Fortis also added M-LOK sections up front that gives you flexibility and freedom to run your light solutions. No more need for purchasing additional off-set light mounts. Mount it directly on the rail and go.
The 9.6″ length is very intentional. This will work with even most direct thread suppressors on a 10.3″ or 10.5″ barrel. The gap will be very minimal and the look – well, amazing.
Night Rail 5.56MM Free Float Rail System MLOK
When designing the Night Rail™, we wanted to design a handguard that was easy to install, but also to be able to mount with a full 360 degrees of contact.  Our new patent pending two piece barrel nut is one of a kind. We developed this from the ground up and the machining time it takes to make the barrel nut, rivals the time making the actual rail. That's not to say the rail is simple to make. One look and you'll see that we really took time with this in design and development. What we ended up with is a rail that not only looks amazing, but is still true to our lightweight brand.  The barrel nut/mounting system keeps the rail performing even during the harshest conditions.
Being one of the leaders in the industry of rail innovation and design, it's always a challenge to innovate new products that function well, but look great also. We're up for the challenge with the next chapter of our product line – the Night™ Series. I think you'll agree that we hit a homerun with the Night Rail™.
Fortis SHIFT Short Angled Grip Keymod
Fortis's new Shift™ short angled grip keymod integrates form with functionality.  The Shift™ short is a hybrid of sorts.  The shape works as a comfortable hand stop when going with the thumb over method.  The grip allows you to handle the weapon with the confidence and the organic design enables the operator to manipulate the rifle in ways that's not quite possible with other vertical grip designs.
Keep your speed and accuracy up. Put more down range and on target. Let us know what you think!