This is a complete list of everything you need to build an AR-15 rifle. Underneath each component are suggestions of products the Tactical Shit experts use or has used in the past on various AR-15 builds. Of course, our recommendations are not exhaustive. There are so many different ways to configure an AR-15 from mass-produced cheap polymer lowers to mom and pop shops machining custom competition, match-grade parts.  In this article we are just going to be looking at the parts you will be needing, and where to find them.
Happy building!
1.  80% lower/ Stripped finished lower
The 80% lower is a non serialized lower.
You will have to use the supplied jig to finish the lower to spec.
If an unpainted lower is bought, it will need to be painted
A stripped lower is a seralized lower that requires FFL transfer as well as a background check.
80% lowers we offer
Billet
Forged
9mm Glock style mags
9mm colt
.308 lower
2. Lower Parts Kit
To assemble the AR-15 stripped lower/80% lower that has been finished, you will need 31 different parts, including the trigger, bolt catch, springs, pivot and takedown down pins, selector switch and hammer. The most convenient way to get all of these parts is by purchasing a full AR-15 lower parts kit. The kits include all 31 items, including a pistol grip and trigger. However, some items you will probably want to discard from the pre-packaged kit and purchase as separate upgrades.
Lower parts kits we offer are:
3. Pistol grip
Located behind the trigger guard and at the back of the rifle is the pistol grip. You grasp this with one hand to aid in shooting the rifle. A basic pistol grip is usually included in the lower parts kit, but many find aftermarket grips fit their hand better..
Grips we offer:
The fire control group consists of
Hammer and hammer spring
Trigger and trigger spring
Disconnector and disconnector spring
Two fire control pins
We at Tactical Shit offer these in our lower parts kits, or you can purchase theAR-15 Mil-Spec Lower Parts Kit With No Firing Control Group (No Trigger) , and then get one of our drop in triggers, or trigger groups.
Trigger groups/Drop In triggers we offer:
5. Selector
The selector is the safety switch and is included in a basic lower parts kit. Left-handed and ambidextrous selectors are available.
Selectors we offer:
6. Bolt catch/Bolt Release
The bolt catch stops the bolt from traveling forward when the magazine is empty. The standard lower parts kit includes a basic bolt catch.
Bolt catches we offer:
7. Magazine release
The magazine release drops the magazine out of the firearm. The standard lower parts kit includes a magazine release.
Magazine release buttons we carry:
8. Bolt carrier group
The bolt carrier group holds and moves the bolt. It also resets the hammer. The bolt carrier group includes the bolt carrier, complete bolt, firing pin, carrier pin and gas key. The gas key feeds gas from the gas tube into the carrier and bolt. The bolt carrier group holds the majority of the gas pressure when the AR-15 is fired. It is what makes the AR-15 function and an essential, if overlooked piece.
Bolt Carrier groups/Bolts Carriers we carry:
9. Buffer/ Buffer & Spring Assembly
The buffer slows down the bolt on the AR-15, absorbs recoil and reduces wear on the rifle. Buffers come in two different sizes, either rifle or carbine and in four different weights from lightest—the standard—to the heaviest, called an H3 buffer. For an AR-15 chambered in .223 Remington/5.56mm NATO, use the heaviest buffer that allows your rifle to function and consistently lock the rifle's bolt back. The type of stock you chose for your AR will determine the size of buffer you buy. For an A1/A2 fixed stock, purchase a rifle buffer. For a collapsible or adjustable stock, buy a carbine buffer. If you are building your AR in 9mm, you will need to buy a 9mm-specific buffer assembly.
Buffers/ Buffer&Spring Assembly we carry:
10. Buffer tube/ Complete buffer tube assembly
The buffer tube holds the buffer spring and buffer. Buffer tubes come in three sizes—rifle, MIL-SPEC carbine and commercial carbine. Choose the right size for your stock.
Buffer Tubes we offer:
11. Buffer spring
The buffer spring brings the bolt of the rifle forward, allowing the gun to fire follow-up shots. Rifle stocks—A1 and A2—as well as carbine buffer springs are different sizes.
Buffer Springs we offer:

12. Barrel
To learn more about AR-15 barrels, read "AR-15 Barrels 101." There are a number of different barrel lengths, twists and caliber available.
Barrels we offer:
13. Barrel nut
The barrel nut holds the barrel to the receiver.
Barrel nuts we offer:
14. Gas block
The gas block directs gases from the barrel to the gas tube and back into the AR-15's receiver, allowing it to complete the cycling process so another round will fire.
Gas blocks we offer:

15. Upper receiver
The upper receiver holds the forward assist, spring and pin, the ejection port cover, the charging handle, barrel, and bolt carrier group. There are many choices when it comes to putting together your upper receiver. You can purchase a complete upper receiver assembly that includes the barrel, an upper receiver that has no barrel, but includes the ejection port cover and forward assist, or you can buy a stripped upper receiver that is just the metal housing for all the parts.
Here are the Complete, and stripped uppers we sell:
The upper receiver parts kit includes the ejection port door, spring, forward assist parts and sometimes the charging handle. It typically does not include the bolt or carrier.

17. Charging handle
The charging handle moves the bolt carrier that is inside the upper receiver. Its primary function is to pull the bolt carrier back or to aid in clearing a malfunction.
Charging handles we offer:
18. Gas tube
Gases are directed from the gas block to the bolt carrier via the gas tube. Gas tubes vary in length, coming in rifle, mid-length, carbine and pistol lengths.
Gas tubes we offer:
19. Stock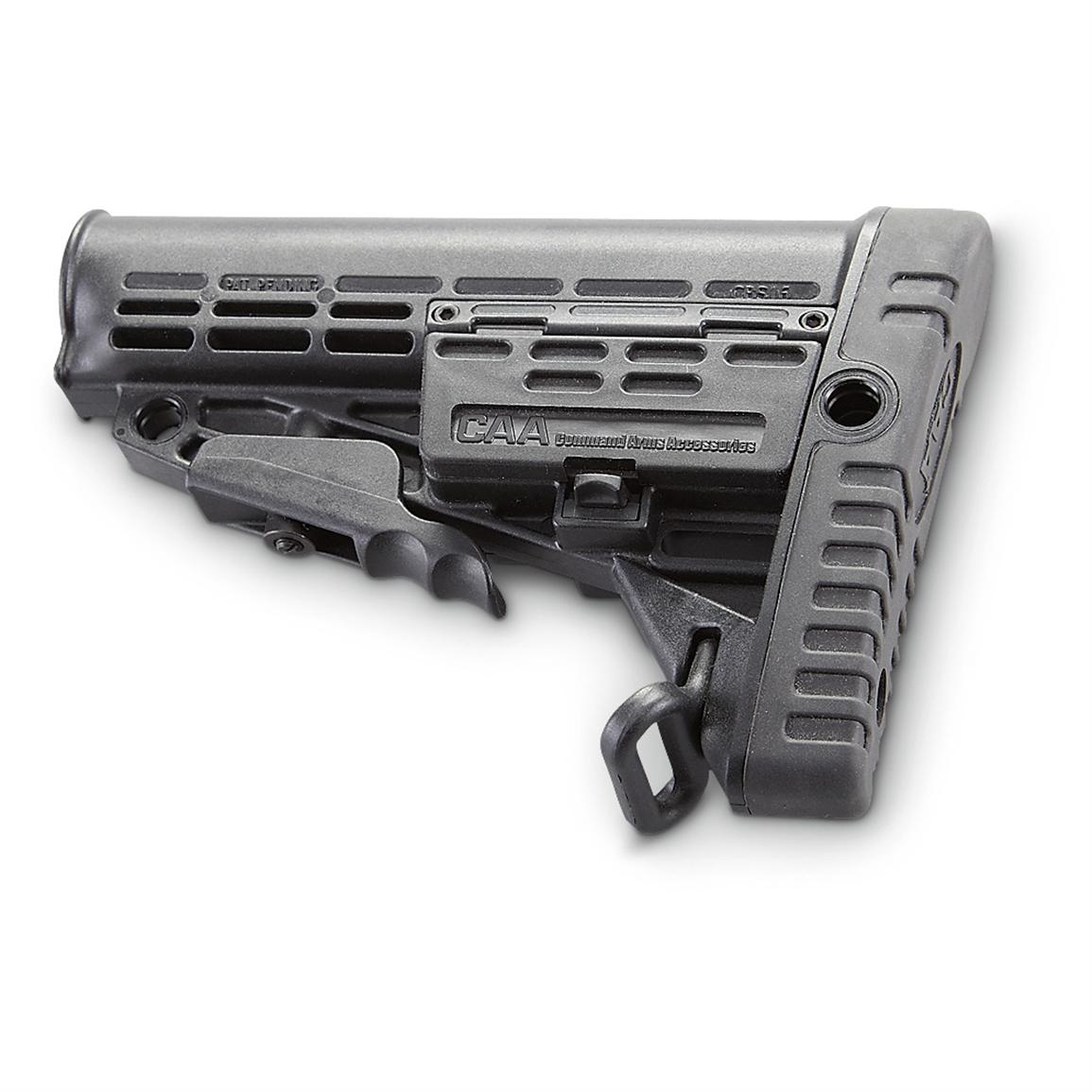 Adjustable black AR-15 buttstock
AR-15 stocks are either A2 fixed or collapsible.
Stocks are either adjustable or fixed. Depending on where you live, an adjustable or collapsible stock is illegal. The AR-15 stock goes on the back of the rifle and allowing you to shoulder it.
Stocks We offer:
20. Handguards
The handguards go around the barrel of the AR-15. It is where you can place your to add accessories, and grip your rifle. Handguards are also referred to as the forend, foregrip or forearm. They protect your hands from burning on a hot barrel. Handguards come in different sizes according to the gas system you choose for your AR-15—rifle, mid-length, and carbine and pistol length handguards. When picking out the parts for your rifle, the gas tube will also come in rifle, mid-length, carbine or pistol lengths. Whichever your gas tube is, buy that size handguard. There are free float and standard handguards. Standard handguards will touch the rifle's barrel, while free-floating handguards will not. Free-floating handguards are more difficult to install than standard, but you will get slightly better accuracy at longer distances using free float handguards. They also are either smooth or have rails on them. Handguards serve a valid function, however, many people buy them purely on their aesthetic value.
Hand Guards we offer:
21.Delta Ring
The delta ring assembly includes the delta ring, weld spring and snap ring. If you choose free float handguards, you will not need a delta ring assembly.
22. Sights/optics
AR-15 upper receivers come in two different types, either an A2 or A3 (flat top). Its fixed carry handle with integrated iron sights characterizes the A2 upper receiver. The A3 flat top upper has no carry handle, but does have a Picatinny rail installed. The A3 flat top upper allows you to add sights and optics, while the A2 (carry handle upper) does not.
Sights/optics we offer:
Optics:
Standard Sights/ Back ups:
23. Handguard cap
The handguard cap secures the front of standard handguards. It is not needed on free-float handguards.
24. Muzzle device
There are two types of muzzle devices. You may put either a muzzle brake—sometimes called a compensator—or flash suppressor/flash hider on your rifle. The muzzle brake helps reduce recoil and muzzle rise while the flash hider suppresses the visible flash from the barrel when the rifle is fired. Some states restrict flash suppressors, but may allow muzzle brakes. Check your local laws before ordering.
Muzzle devices we offer:
25. Magazines
AR-15 magazine capacity ranges from five to 100 rounds. Some states restrict magazine capacity. Check your state laws before ordering.
27. Extras
"Extras" include things such as sling mounts and attachments, vertical grips and tools.
Step By Step Assembly guide:
LOWER (trigger guard, butt stock)