Read more: https://www.ammoland.com/2012/10/best-concealed-carry-revolvers/#ixzz4nDJ4RzGz
Under Creative Commons License: Attribution
Follow us: @Ammoland on Twitter | Ammoland on Facebook
My top five picks for the best concealed carry revolvers for reliable self defense include the five following wheelguns:
Ruger SP101 357 Mag, 2.25″ Revolver
Smith & Wesson 642 Handgun 38 Special Revolver
Ruger LCR-LG 38 Spl+P Revolver with Crimson Trace Lasergrips
S&W M&P 340 Revolver
Taurus Judge Public Defender Polymer Revolver
Ruger SP101 357 Mag, 2.25″ Revolver:
The Ruger SP101 357 Mag, 2.25″ Revolver fitted with the Crimson Trace LG-111 Defender Series Lasergrips are designed to put the shooter on target quickly and accurately. The Ruger SP101 has a spurless hammer for a snag free carry and draw, features 2.25 inch barrel and fixed sights. These 5-shot stainless steel revolvers are chambered for .357 Magnum and can also fire .38 Special ammunition, including .38+P cartridges.
The Crimson Trace LG-111 Defender Series Lasergrips are constructed of hard durable polymer. The red beam laser is activated by a pressure switch located on the front of the grip, making it instinctively usable for right- or left-handed shooters. The laser is adjustable for windage and elevation using an Allen wrench (provided).You Can Never Be Too Prepared. The SP101 revolver boasts the strength to handle the powerful .357 Magnum and .327 Federal Magnum cartridges in a controllable, small-framed double-action revolver. Among the most powerful small-frame revolvers on the market, they are engineered for solid performance. Featuring a recoil-reducing grip, the SP101 is comfortable to shoot and perfect for personal defense or field use.Strong and reliable shot after shot, all SP101 revolvers boast solid steel sidewalls (no side-plates), making them rugged, reliable, and dependable.
Available in .327 Federal Magnum, .38 Special and .357 Magnum (which also accepts the less expensive .38 Special cartridges), you can count on the SP101 when you need it.
Smith & Wesson 642 Handgun 38 Special Revolver:
The Smith & Wesson 642 Handgun 38 Special Revolver is a lightweight alloy framed revolver with a steel cylinder. Smith and Wesson calls this an Airweight revolver. It comes in at 15 ounces unloaded. It is a 5 shot revolver and rated for .38 Special +P ammunition. The standard 642 comes with a 1 7/8 inch barrel and the Pro comes in at 2 1/8 inch barrel.
I am a large caliber bigot. I make no apologies for it. Before this gun, I only thought there were 4 common calibers worth buying a handgun in: .40 S&W, .45 ACP, .357 Magnum, and .44 Magnum. I still think that way, but with one caveat. A .38 Special in +P can be had in ballistics close to a slow .357 Magnum. Make that two caveats, I don't know who said it, but a [insert small caliber here] in the pocket is better than a [insert large caliber here] in the dresser. I think there are limits to the second caveat, but for 40 years the majority of police in this country carried .38 Specials and like I mentioned above, there are +P's that push the .38 Special over 1000 f/s.
Ruger LCR Revolver .357 with Crimson Trace Lasergrips:
When Ruger designed the groundbreaking polymer-framed Ruger LCR Revolver in .357, it did so with the intention of Crimson Trace Lasergrips compatibility and availability right out of the gates. The addition of the Lasergrips greatly enhances the defensive capability of the lightweight LCR revolver with a seamless fit and quality engineering. It will hold zero continuously without fail. Ruger's commitment to endorsing Crimson Trace laser sights is further validation that after the weapon itself, a laser is the best self defense investment you can make.
The S&W M&P 340 Revolver is a lightweight, five-shot, double-action-only revolver is perfect for concealment and comes with an internal hammer that'll keep it from catching on the draw. It's chambered in .38 Special +P and the heavier .357 Mag., providing shooters with some options when planning their personal defense.
Taurus Judge Public Defender Polymer Revolver: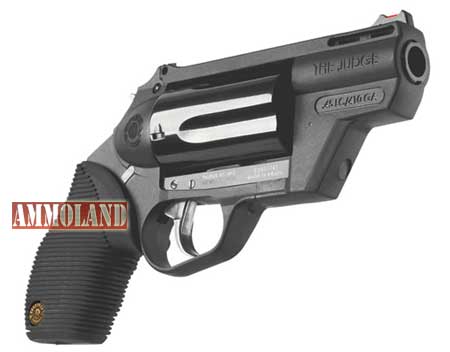 Last but not least, on our list of the best concealed carry revolvers, check out the revolutionary new Taurus Judge Public Defender Polymer Revolver. This scaled-down model of everyone's favorite combo gun, the Taurus Judge, still gives you the ability to fire your choice of ammunition —now in a size that fits in most pockets— also in a lighter, polymer body frame with new updates for improved handling and accuracy. Truly amazing! Just like its big brother, this little gun delivers amazing versatility and devastating firepower for self-protection. .45/.410 (2.5″ chamber)
Read more: https://www.ammoland.com/2012/10/best-concealed-carry-revolvers/#ixzz4nDJAIvOW
Under Creative Commons License: Attribution
Follow us: @Ammoland on Twitter | Ammoland on Facebook
Concealed Carry Revolvers Capacity / Price Comparison Chart: